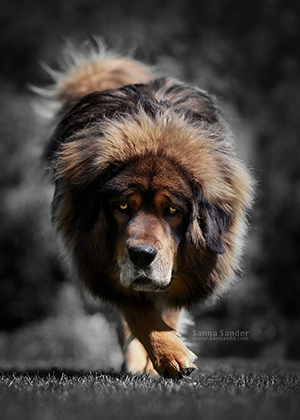 Hello and welcome! I'm happy you have found this site and I hope it will be a great resource when you are exploring the internet, looking for information on the Tibetan Mastiff. This is NOT a site of recommended breeders. This is a collection of links to Tibetan Mastiff websites and information sites.
There are many homepages out there, some focusing on the Tibetan Mastiff and some focusing on the modern creation, more commonly known as the Chinese Mastiff, market type tibetan mastiff or pig mastiff. The homepages are made by owners, breeders and fans. This site is a portal of links from all over the world and I suggest you truly dive into the breed, its history and its function to learn more about it.
I urge you to be critical when searching for a breeder or information. Check and recheck your sources. Study pedigrees, study bloodlines and study types. If you wish to share your life with an authentic Tibetan Mastiff I encourage you to ignore the chinese creation. Many of the types and sizes we see today is a heritage from the old homeland. This is a breed full of diversity. But in recent years there's been a huge infusion of foreign breeds into the genepool, to add to size, coat and overall impression. These dogs are NOT typical tibetan mastiffs, no matter what the breed name on their pedigree may say. They are a modern creation, made in China in the beginning of our century and have since spread across the rest of the world. These dogs are NOT to be considered Tibetan Mastiffs. They are, in short, crossbreeds with pedigrees.
If you know of a site that should be added here, or if you want your own site added, please send me an e-mail at sannasdd@gmail.com.
So, who am I? My name is Sanna and I'm not a breeder, simply a huge fan of the breed. I've shared my home with tibetan mastiffs since 2007. My first two Tibetan Mastiff boys Zodd (Fu-Hsing Sundari) and Temudjin (Legenda Tibeta Temudzhin) are sadly not with me anymore. Today I live with three Tibetan Mastiffs - Tamtam (Dom Khandro Amore Tamtam), Embla (Lhuntse Embla Drokpa) and Ask (Manam Ask Drokpa). Zodd was my first love in the TM world and if you are curious about him he has his own homepage: www.zodd.se


I also have a very active instagram account featuring my crew, with Ask as the main character. You can find us here: Ask's instagram



LAST UPDATED 2022-07-09